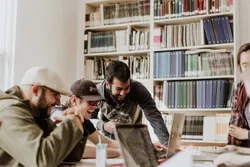 If you're coming to study in Australia, you probably need to get health cover. We've put together a list of Overseas Student Health Cover (OSHC) policies specifically designed to meet the requirements of the Subclass 500 Student Visa. Compare the student health insurance policies below and click through to get covered.
Compare OSHC visa compliant options
Here are some of your options for visa compliant student health cover in Australia. This type of health cover will help you should you get in an accident and need to go to the hospital during your stay in Australia, which could save hundreds if not thousands of dollars. Some also offer payment towards listed medicines, you can find the limit under 'Pharmaceutical'.
The DHA classifies overseas students for health insurance purposes as those who are:
Holders of a student visa
Currently applying for a student visa
Holders of a bridging visa who were previously on a student visa
This classification applies whether you are studying, or planning to study, at an Australian university, TAFE institute or secondary school.
OSHC is a type of health insurance specifically for international students who are studying in Australia. You can get different levels of cover to include additional treatments but a basic policy includes hospital accommodation and GP visits. Many health funds in Australia will also offer more comprehensive policies that cover a wider range of treatments which include out-of-hospital services such as optical and dental.
Basic level student health insurance will cover
The same hospital treatments that are covered by the Australian public health system
Accomodation in a shared ward in a private hospital
Certain prosthetic devices
Emergency ambulance transport
The same out-of-hospital treatments that are covered by the Australian public health system
Day surgery accommodation
Pharmaceuticals ($50 per script, limit of $300 per year)
One of the requirements of the Student Visa (Subclass 500) is that you must have a health insurance policy that meets the requirements of the Department of Home Affairs (DHA).
OSHC covers you as long as your premiums are paid and you're enrolled as a full-time student. Once you've graduated and are looking for work, you'll need to look for either Overseas Visitors Health Cover (OVHC) on either the 485 Temporary Graduate visa or the 482 Temporary Skill Shortage (TSS) visa.
Coming with your partner or spouse? They're covered too!
If you're travelling with your family or spouse as dependants on your Student 500 visa, they will also need cover too. When you're applying make sure they're listed on your policy to make sure they're compliant with your visa arrangements.
If you are travelling to Australia on a Subclass 500 Student Visa with your partner or spouse, they will also need cover. Good news is, you can apply for a couples policy to make sure you're compliant with the visa requirements.
If you are a student from Belgium, Norway or Sweden you may be eligible for an exemption from having to take out students health insurance. Under the Reciprocal Health Care Agreement (RHCA) that Australia has with those nations, you will be able to claim benefits for certain medical treatment under the public health system called Medicare.
Belgian students. The benefits provided by the RHCA in place between Australia and Belgium is considered adequate health insurance. No student health insurance is needed to satisfy your visa requirements.
Norwegian students. As with Belgium, the RHCA between Australia and Norway satisfy the student visa health insurance requirements
Swedish students. Health insurance is not required for Swedish students provided they are covered by a policy from the CSN (Swedish National Board of Student Aid) or the Kammarkollegiet (Swedish Legal, Financial and Administration Agency).
Be aware that if you are a student from any of the other eight countries Australia has an RHCA with you will still be required to take out health insurance to fulfil your visa requirements.
To keep things simple and cost effective for you, each insurer usually only offers one basic OSHC option that covers these services:
Hospital bills. Your insurer will pay up to 100% of your hospital costs as long as your policy lists the treatment as covered. You may get less if you use a hospital that doesn't have a partnership with your insurer.
Doctor's visits. Your insurer will pay up to 100% of the amount that the Federal Government has determined that standard GP consultation should cost (you'll pay any difference if your provider charges more).
Bloodwork and X-rays. Your insurer will pay up to 85% for specialist service costs. If these services are done outside of a hospital, the percentage they cover could be less.
Prescriptions. You'll usually get a set yearly dollar amount that you can apply toward prescriptions.
Emergency ambulance rides. Your insurer will pay up to 100% of your ambulance rides in an emergency. If it's not an emergency, you will be responsible for the cost.
Some insurers will have a second option that is available only to students of select universities that they have partnered with. These plans will cover the same types of services as the ones they offer to the public, but with slightly better rates or increased benefit limits.
Most OSHC policies don't include dental cover since it's not required as part of your visa. However, you can get a seperate policy called an "extras" policy that covers many non-hospital treatments like dental, optical and physio.
You can find ones that cover general dental treatments like cleanings, x-rays and simple fillings or you can upgrade to one that includes major dental work like root canals, complex fillings and crowns.
You can choose from any extras policy in the Australian market and you'll hold this type of cover in addition to your OSHC policy.
If you have signed up for OSHC, you will be covered for treatments on the Medicare Benefits Schedule. It also includes emergency ambulance cover and limited pharmaceuticals.
OSHC does not cover anything considered general treatment, such as the dentist, physiotherapy or optical.
Keep in mind that you will be unable to claim for a number of medical services and treatments under your student health insurance policy.
Common exclusions
Treatments not covered by the Australian public health system
Treatment you require while travelling to or from Australia
Claims for treatment costs that could otherwise be covered by compensation or damages
Cosmetic surgery
Any treatments you have arranged before travelling to Australia
Non-emergency ambulance transportation
Transportation of an overseas student (or their dependant) into or out of Australia
IVF and assisted reproduction services
Many universities will allow you to purchase your OSCH through them, but it is not required that you do. They will usually have a specific "preferred provider" that they've partnered with and this may give you access to special rates or increased levels of cover that the insurer does not offer to the general public.
If you purchase your insurance through your university, your university may also help organise your first payment to the insurer and advise the Department of Home Affairs on your behalf.
One drawback of going through your uni is that there will be lack of choice. Your best bet is to see what they offer and compare it side-by-side with other policies in the market.
At the time of writing, OSHC policies are offered by six health funds.
How to compare OSHC options
Since OSHC is a requirement for a student visa, all cover options must provide you with minimum levels of cover for it to be compliant with your visa condition. This means that rather than cover levels when it comes to comparing OSHC price is one of the main comparison points.
Below is a cost comparison for 1-year of cover for a single 25-year-old coming to Australia to study with cover for 12-months.
*Prices correct at time of writing (5 January 2021) and subject to change
The costs above are for the basic cover option that just satisfies your visa requirements. Some funds like such as Medibank offer comprehensive options that provide cover in addition to these minimum standards and have benefits for private psychology and repatriation costs.
What about extras?
OSHC is designed to cover you mainly for hospital costs. However, if you want to cover general (extras) treatments such as dental, optical and physio you're going to need extras cover.
Find out more about extras cover
It's really easy to apply for cover, below are two Finder partners who offer OSHC. Simply select enquire and someone will contact you to explore your options to make sure you are on the right plan.
To get cover, you'll need to know:
When you want your policy to start and end. This is not just your course dates but from the date you plan on arriving in Australia. If you don't have health insurance you may be denied entry to the country.
How you claim on OSHC
How you'll claim on your OSHC will depend on which insurer you choose. Below are the claims options available from each fund:
ahm OSHC members can claim in the following ways:
Online. ahm Online Member Services
App. ahm OSHC App
Phone. 134 148
Direct Billing. Members choice network
| | | |
| --- | --- | --- |
| Online | Yes | Student can login via our Allianz website |
| Customer App | Yes | Students can download the app |
| Email | Yes | |
| Mail | Yes | |
| Phone | Yes | |
| In-store | No | |
| On Campus | Yes | Allianz have locations at over 50 campuses across Australia |
| HICAPS | No | |
| Network of Direct Billers | Yes | Allianz have a Network of Direct Billers you can access and claim automatically using your student card. |
OSHC claims options with CHHS are as follows:
Online. Yes
App. Yes
Email. N/A
Mail. N/A
Phone. N/A
In-store. N/A
On campus. – N/A
HICAPS / at time of treatment with card. Yes
Medibank OSHC members have the following claims options:
Online. Medibank Online Member Services
App. Medibank OSHC App
Phone. 134 148
In-store. Medibank store locations
On campus. Selected universities
Direct Billing. Members choice network
| | | |
| --- | --- | --- |
| Claiming App | Yes | Yes |
| Online Services | Yes | Yes |
| HICAPS | Yes | Extras Only |
| Phone | Yes | No |
| Mail | Yes | Yes |
| Email | Yes | No |
| Retail Centre | Yes | Yes |
| Dedicated Contact Centre | Yes | No |
| Website | Yes | No |
| 24 Hour emergency helpline | Yes | No |
| Dedicated on campus support | No | No |
| On campus claim processing | No | No |
| Direct Billing | Yes | Yes |
| Click to chat | No | No |
You may be able to pay for your health insurance through the educational institution you are planning to study at or you can do it yourself by contacting an Australian provider who offers visa compliant policies.

You have the freedom to transfer to another provider at any time. However, keep in mind that you may incur a "refund processing fee" if you transfer part-way through a cover period.

No, the only health insurance that complies with student visa requirements are policies offered by Australian providers.

If you wish to stay in Australia following the conclusion of your studies you will need to apply for a Temporary Graduate visa (subclass 485). You will also need to transfer your OSHC policy to an Overseas Visitors Health Cover policy.

In many cases, your OSHC number the student id you're given by the University you're attending, plus an additional identifier. For example, let's say your off to the University of Sydney and your student id is 123456789 it would be that plus US, so your policy number would be 123456789US.

No, in most cases. Part of the 500 visa application process requires you to enter your health insurance policy number and you won't be able to enter the country if you don't have an adequate health insurance policy in place. Even if you're in Australia on a holiday you will need to leave the country before you're eligible to apply for the 500 visa. There are some exceptions for students who are in the country on permanent visas that require you holding OVHC.
Compare Australian OSHC policies and request a quote
Picture: GettyImages